General Sailing and Cruising Links
Best Sailing Pages on the Web
Langtursejlernes links
The sailing Index
UK Sailing Index
Sailing Resources on the World Wide Web
THE WEB'S Biggest BOAT SHOW
United States Coastguard
Mark Rothenstein's Sailing Page
CruiseWeb
Maritime links (Denmark)
Yachting People
På udkig efter sejlsport(Denmark)
Maritim Telecommunication
Maritime Telecommunications Information
WORLDWIDE RADIOFACSIMILE WEBPAGE
GPS US Coastguard
NAVTEX US Coastguard
MF/HF High Seas Voice Broadcasts
Emergency Position Indicating Radiobeacons (EPIRBs)
International VHF Maritime Radio Channels and Frequencies
US VHF Marine Radio Channels and Frequencies
HF Radiotelephone Channels
HF Radiotelephone Channels. Flemming Bitz's version!
Amateur Service Links
FreeTel - Talk over the Internet for Free!
Online Adventures
Guide to Sailing and Cruising Stories
GOALS - Global Online Adventure Learning Site
Informations and hints for bluewater sailors and cruisers.
Cruise News
Yacht Magazins
Practical Boat Owner - Yachting Monthly -Yachting World
Cruising World - Sailing World Magazines
Living Aboard, the Magazine of Liveaboards
Caribbean Compass Homepage Compass to the southern Caribbean
National Gographic Magazine
Maritime Equipment
Olav Hansen Bådudstyr (Denmark)
Yachting People UK.
Watski (Sweden)
Hjertmans (Sweden)
Clown-Versand (Germany) Bootszubehör von A-Z
West Marine (US)
Cruisermart UK
Telesonic UK
Kelvin Hughes UK
EMS - Experss Marine Servicess UK
EMS - Experss Marine Servicess (Sweden)
Shamrock Chandlery.UK
Crusader Sails Discount UK
Rutland House UK
British Marine Equipment Companies
Hallberg-Rassey Yachts (Sweden)
PORTAWATTZ 12v to 230v inverter
Wind Self Steering Gear:
Aries Windvane Gear(DK)
Windpilot (Germany)
Scanmar: Monitor, Navik Windvane (US)
Cape Horn Windvane
Fleming Self Steering Wind Vane System
Sailomat
Auto Steer
Navik - Self Steering Gear for my Albin Balad
Book Shops
The Internet Bookshop(UK)
Admiralty Charts & Publications(UK)
Danske Søkort - Kort & Matrikelstyrelsen(DK)
Bluewater Books & Charts (US)
Reed's Nautical Almanacs
Bellingham Chart Printers- Copies of US navigational Charts(US)
Sailors Boohshelf (UK)
Free Books
Sailing Alone Around the World by Joshua Slocum
A Voyage to the Pacefic Ocean by James Cook
Endeavour, The - The Journal of Joseph Banks
Navigation
Learn the fundamental theory of Celestial Navigation
Waypoints til Garmin GPS navigatorer
GPS US Coastguard
Emergency Position Indicating Radiobeacons (EPIRBs)
Cruising Yachts with a Homepage
With NETTE to The Caribbean (My page Danish)
Pernille i S/Y LUCE
Prins Henrik - Spækhugger
Ad Astra - Pearson M10 (Swedish)
Ellen
Blue Marlin- Bavaria 430-93 (Swedish)
Fragancia - HR 38 (Swedish)
Galabagos - Bavaria 350-94 (Swedish)
Onyx -Colin Archer40 (Swedish)
ONYX - Maxi 108 (Swedish)
Software
HTML Tags Index
Crewing Services
FTLF-DOCA Langtursejlerne (Denmark)
Crew-seekers- international crew agency
Cruising Crew List Index - Crew Agency (US)
Met. Office - Weather Forecasts:
Danmarks Meteorologiske Institut
Shipping Forcast from UK Met Ofice
The Met. Office (UK Shipping Forecasts)
The Deutscher Wetterdienst, Offenbach
NOAA's National Hurricane Center
Weather Links World Wide
Navtex
The Weather Master HB-Yacht
Caribbean Weather
Met Office UK. For Yachting People
Yacht Associations: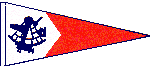 FTLF-DOCA Langtursejlerne (Denmark)
Havsejlerne (Denmark)
Danish Ocean Cruising Association (Denmark)
FTLF Kontakt Grenadinerne
Selvbyggerklubben
Oceanseglingsklubben (Sweden)
Royal Yachting Association
Cruising Association
World Cruising Club
Atlantic Rally For Cruisers (ARC)
Dansk Balladklub (Denmark)
Svenska Balladklubben (Sweden)
Farvandsvæsnet (Denmark)
Music Links
Musikforum: Newer Danish Pop. Music (Midi & Text).
Classical Music
S/Y Nettes sangbog
Festsange til enhver lejlighed: 1
Danske sange
Martin Hagerups hjemmeside.
Ca. 375 danske sange med både tekst og melodi
opdelt i kategorier.

Gamle danske sange

Jørgen Eberts hjemmeside.
Over 325 sange, mest ældre, med tekst og melodi.
Skillingsviser

Odense universitetsbibliotek.
Gamle danske viser og melodier.
Festsange og andre tekster

Lone og Thomas Vilby's hjemmeside.
Festsange, tekster samt nyttige links.
Alt til festen - næsten

Familien Vitting's Sangarkiv m.v.
Over 850 festsange + oversigt over sangforfattere, indbydelser, selskabslege, musikere til festen, taler, bordplaner samt historier.
Festsange og links

Bjørg og Bjarne Kristensens hjemmeside.
En del festsange - p.t. ca. 300 samt en hel masse brugbare links.
Også en del salmer og gamle viser er med.
Hjælp til festsange m.v.

Klinthøj Sange.
Jeanne Cordua hjælper dig med at lave sange, taler, monologer, sketches m.v.
Herudover Menukort, bordkort, lykønskningskort m.v.
Jeanne ved også næsten alt om Bornholm.
Morsomme viser.

Svend-Aage Petersens hjemmeside.
Svend-Aage samler på morsomme viser og sange - p.t. ca. 75 - og har både musikeksempler og becifringer.
Søgemaskine til f.eks. at søge efter en sang.

En speciel søgemaskine hos Jubii.
Hvis du mangler en specifik sang kan du prøve hos Jubii.
Jeg har flere gange været heldig at finde en bestemt sangtekst her.
Endnu en søgemaskine som er god til "festsangesøgning".

En speciel søgemaskine hos SOL.
Hvis du mangler en specifik sang kan du også prøve hos SOL.
Jeg har flere gange været heldig at finde en bestemt sangtekst her også.
Svenske sange: 1,
3,
4
Sea Shanties and Sailor Songs (English & German)
Folksongs - All Nations Index